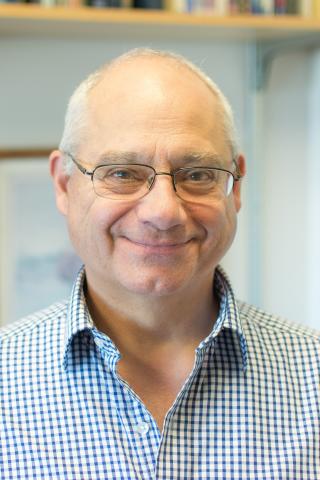 Research Interests:
Tectonics
Volcanology
Environmental Change
Education:
Rensselaer Polytechnic Institute (B. S.)
Rutgers University (M. S.)
University of Chicago (Ph. D.)
Courses:
Environmental Science (EES 2), Volcanology (EES 363), Scientific Foundations for Environmental Policy Design (EES 402), Human Climate Interactions (EES 446)
Dork Sahagian is a Professor of Earth & Environmental Sciences at Lehigh University. Professor Sahagian received his B.S. in Physics from Rensselaer Polytechnic Institute, his M.S. in Geosciences from Rutgers University, and his Ph.D in Geophysics from the University of Chicago. He then served the Navy as a NORDA Oceanographer at Dartmouth College, Associate Research Scientist at Lamont-Doherty (Columbia University), and Research Scientist at the Byrd Polar Research Center (Ohio State University). He served as Executive Director of the Global Analysis, Integration, and Modelling Task Force of the International Geosphere Biosphere Programme (IGBP/GAIM) at the Institute for the Study of Earth, Oceans, and Space at the University of New Hampshire from 1994 until 2004, when he moved to Lehigh University, where he served as Director of the Environmental Initiative from 2004 to 2010. Professor Sahagian has been conducting research in paleoclimatology, volcanology, stratigraphy, geodynamics and tectonics, global hydrology, sea level, the environmental impacts of human activities, and science education. Part of his research led him to coauthor the pivotal reports of the Intergovernmental Panel on Climate Change (IPCC), which was jointly awarded the 2007 Nobel Peace Prize with former vice president Al Gore. He also served as the Principal Scientific Reviewer for Global Environmental Outlook (GEO-5) of the United Nations Environment Programme (UNEP). Professor Sahagian has taught courses in the earth & environmental sciences, physics and astronomy, volcanology, human-climate interactions, stratigraphy, and other areas related to his research and that of his students. His currently offered advanced class "Scientific Foundations for Environmental Policy Design" is required for all Environmental Policy Design MA graduate students. The second edition of his book, "A User's Guide for Planet Earth" was recently published for use as a textbook in introductory Environmental Science courses nationwide. He was instrumental in establishing the new section of the American Geophysical Union in "Biogeosciences" and has directed his efforts to organizing and integrating a number of diverse research communities. Toward the goal of understanding of Earth's processes and environment, he continues to work toward the integration of disparate disciplines in geology, environmental science, technology, policy, and the myriad interactions between people and the world in which we live.