2019-20 EES Friday Guest  Speakers
Public Welcome
Seminars are held most Fridays at noon in Rm. 101 of the STEPS building (the auditorium in "A" wing) preceded by a department lunch at 11:00am in ST 102.
January 24th 
Nadine McQuarrie, University of Pittsburgh
"Exploring the links between vertical uplift, horizontal translation and how topography is created and maintained in convergent orogens."
(host: Mariah Hoskins)
January 31st
Daniel Hayes, University of Maine
"A convergence among estimates of a large carbon sink on the North American continent"
(hosts: Ben Felzer )
February  7th
Elizabeth Trembath-Riechert, Arizona State
"What lies beneath? Life in the marine subsurface."
(host: Jill McDermott)
February 14th
John Jamieson, Memorial University
"Hydrothermal ore-forming processes on the seafloor"
(host: Jill McDermott)
February 21st
EES Graduate Student Symposium
Keynote speaker: Katie Jaeckel MS '17
"A foot in both worlds: Pursuing a career in environmental consulting while continuing to explore my role in academia as an adjunct professor"
(host: EES)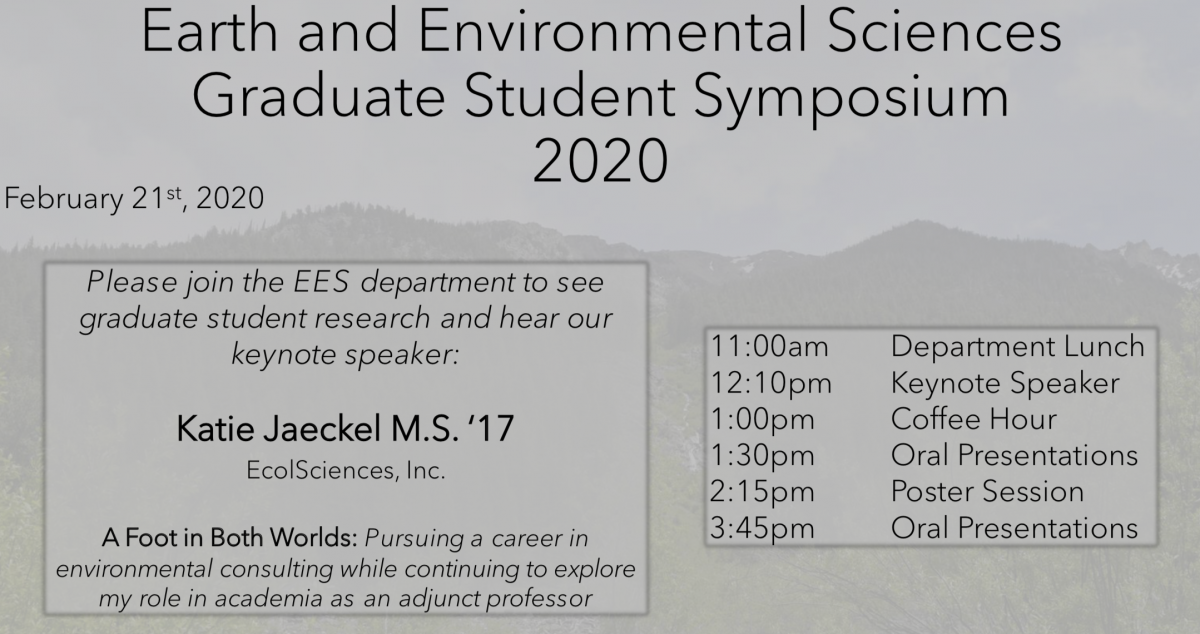 February 28th
Vernon Morris, Howard University
"Microphysical and Chemical Processes on Saharan Dust Aerosols During Their Atmospheric Life Cycle"
(host: Joan Ramage)
Wednesday, March 17th, 4:30 p.m.Williams Hall, Roemmele Global Commons
             Dr. Victoria Herrmann (LU '12) Managing Director, The Arctic Institute| National Geographic Explorer
             "Cooperation and Courage: Translating Climate Research into Action"
            Co-sponsored by: Environmental Studies Program ADVANCE Center for Women STEM Faculty, Department of Earth and Environmental Sciences, Department of International Relations, Environmental Initiative, Global Studies, and Mellon Humanities Lab
March 20th- Postponed
Mark D. Behn, Boston College
"Interactions between Faulting, Magmatism, and Surface Processes in Extensional Systems"
(host: Peter Zeitler)
March 27th-Postponed
Panos Diplas, Civil and Environmental Engineering, Lehigh University
"A unified approach to initiation of particle motion and bedload transport description."
(host: Ken Kodama)
April 3rd-Postponed
Tamara Pico, Harvard University
"In and out of the last ice age: Insights from sea-level change and river evolution in North America"
(host: Frank Pazzaglia)